News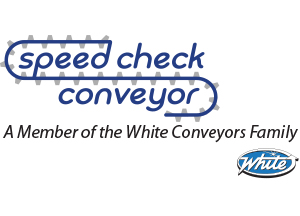 Speed Check Conveyor is now part of White Conveyors offering clients new products, more service, and a new website.
February 1, 2009 — Decatur, GA — www.SpeedCheckConveyor.com
Speed Check Conveyor, established in 1948 as an accessory manufacturer to the dry cleaning and laundry industry, joined forces in the spring of 2008 with White Conveyors based in Kenilworth, New Jersey. Together, the two companies have many important domestic and world-wide clients.
Speed Check became a major supplier to the commercial and industrial laundry industry in the early 1970's with its first installation of an overhead monorail system. Today, Speed Check is a major supplier to the laundry industry with many products including two types of monorail systems, soil sorting systems, belt conveyors, folding tables, cart dumpers, and many other uniquely designed products.
Speed Check has capitalized on its experience to focus on customer service to remain the most trusted conveyor manufacturer in the industry. The company specializes in meeting the needs of industrial and commercial laundries to sort, store, or move goods efficiently through their plant.
The Speed Check factory, 56,000 square feet, is located in Decatur, Georgia and is the base for engineering, manufacturing and supporting the laundry industry. In addition, White Conveyors in New Jersey gives Speed Check an additional platform to support customers in order to keep downtime to a minimum. The combined talents of the New Jersey and Georgia companies allow team members to look at your entire laundry process to offer solutions in increasing efficiency and lowering costs.
On February 1, Speed Check Conveyor LLC launched a totally new website with a new logo and interactive ability. The site offers the ability to get quick information about the company, its products and the markets it serves.
About Speed Check Conveyor, LLC
Based in Decatur, GA., Speed Check Conveyor is a major designer, manufacturer, and supplier of specialized conveyor systems. For over 60 years, the company has specialized in automated garment transport, storage, sorting and retrieval systems for high-volume commercial and industrial laundries. Since 2008, Speed Check has partnered with and been owned by the worldwide leader in conveyor innovation, White Conveyors Inc., Kenilworth, NJ.
Speed Check Conveyor 5345 Truman Drive, Decatur, GA 30035 Phone: 800-241-0990
Email: info@SpeedCheckConveyor.com Website: www.SpeedCheckConveyor.com
Company contact: Paul Mullen VP Sales & Marketing, pmullen@SpeedCheckConveyors.com